Cycling
This class is taught by: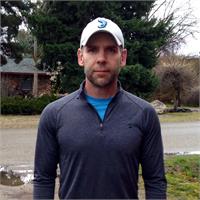 Hi my name is Brian Whaley. I was born and raised in Albuquerque, NM and have always been active and into playing sports as a kid as well as now playing on several softball teams. As a kid, I wasn't raised around healthy food, just fast food, soda and anything else with sugar and that wasn't healthy. In my 20's my active lifestyle slowed down a bit when I obtained my associate's degree from ITT in CAD design in Albuquerque and started working a desk job for Intel, Micron and a few others. I got married and started a family and soon after that we moved to Boise where we operated a kiosk in the mall selling Metabolife. That was one of the most rewarding jobs I've had! I love helping people lose weight and helping them overcome something they thought was impossible! I really got into the fitness and healthy lifestyle when I noticed my weight was at an all-time high and knew I had to do something about it. I have been able to lose almost 70 pounds through healthy eating and exercise. I've lived here 17 years now and LOVE it here in Boise. I don't believe in the 2 words I CAN'T! Living a healthy lifestyle is not a fad but something one must commit to. I like to using strength training as well as functional training. I also have experience in circuit training, Tabata, TRX suspension training, spinning and boot camps. Each workout and fitness program is specific to each client. Everyone has different fitness levels and needs and I will get you set up in a program specifically designed for your success. I also teach the indoor cycling classes, my program is made to give you an amazing work out while still having fun. Just stick with it...what seems so impossible now, will one day be your warm up!
Benefits of a Spin/Indoor Cycling class
1. Weight loss – If you are trying to lose or maintain a certain weight, a cycling class is a great way to achieve that goal. Fast-paced classes can help burn hundreds of calories in an efficient amount of time and unlike lifting weights, you won't be punishing your joints. Adding a spin class to your routine is a great way to boost your weight loss or weight maintenance efforts!
2. Builds Strength – Spinning is a total body workout. You can tone your core, back, butt, legs and arms in one exciting workout. Spin classes are not just riding a stationary bike. You will go on an exciting journey climbing hills and hitting sprints with different speeds and resistances to challenge your entire body!
3. Cardio – Cardio is essential to your heart health and our class will get your heart pumping. Cardio is one of the best ways to lose weight and boost your metabolism. If you're feeling tired and sluggish, a spin class will help remind your body how to produce and properly utilize energy. You will also increase your cardio endurance. This is beneficial, especially if you feel weak or get tired climbing a set of stairs.
4. Low Impact – You are not going to be overwhelming your joints even though you are burning hundreds of calories. This makes spin classes great for people at any level of fitness and at any age. Almost every muscle group in your body will be stretched and strengthened, overall lessening the impact on your joints even in your everyday life.
5. Go at your own speed – Though you will be pushed beyond your normal limits, you can adjust your individual experience in the class to ensure that you are getting the best workout possible for your body without overdoing it. Spin classes are one of the easiest for the body to become accustomed to which means even though you are dripping in sweat the first week, the next week will be easier. As every week passes you can crank up your own workout!
6. Relieve Stress – Any type of exercise is known to reduce stress. However, a spinning class can be a more efficient stress reliever than most types of exercise. This is due to the fact that the workout is intense and it's a class where you can meet people and socialize. Spinning classes are held by an instructor that will motivate you throughout the ride and there is music that will help motivate you to get you through the toughest sprints and help you climb the biggest hills!